Where do I source constructional fixings?
Timber to timber and timber to masonry fixings are by their very nature notoriously difficult to differentiate because they fulfil a very specific single purpose. This has lead many merchants to look to their supply partners for non-product based initiatives that give them an edge in the market.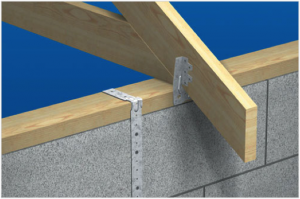 The challenge for manufacturers, therefore, is to develop service options that enable merchants to capitalise on current market opportunities, for example, continued strength of the timber frame and RMI (renovation, maintenance and improvement) sectors. When it comes to timber to timber and timber to masonry fixings merchants can differentiate themselves by offering customers ex-stock availability or next day delivery options.
These non- product differentiators create a very powerful selling proposition. For instance, fixings' suppliers that provide merchants with a next day delivery, direct to site where necessary, will find it a highly effective way of earning loyalty from customers. We've also found that competitions that we run on behalf of merchants helps generate interest and footfall, with the latest giving end customers the chance to win official Euro2016 merchandise.
Strict merchant supply policy
Our approach on all our ranges, including our entire timber to timber and timber to masonry fixings is that we have a merchant only policy. This means merchants have the confidence that their prices won't be undermined by us offering similar trade prices to builders and roofers. This has been an important factor in the success of our business over the last 35-plus years and many merchants that have adopted the range have performed particularly well in this market.
Of course, in a competitive market such as constructional fixings, where often there is limited opportunity for product differentiation, adopting a rigid supply policy is only the start point. Many merchants are looking for differentiation in terms of the service package, too, which means having a supply partner that they can rely on. That partner has to be willing to hold high levels of stock to ensure they avoid stock out situations, a sure fire way to lose customers and also to offer next day delivery anywhere in the UK, ideally with no minimum order quantity.
Both of these are crucial to a successful merchant operation and is one of the reasons why we have invested so much in our warehouse and distribution over the last few years.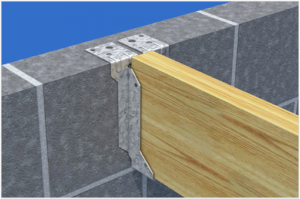 Our approach is that a good supplier makes sure that merchants are free to concentrate on what they are good at – selling products to trade and DIY'ers. Next day delivery and holding over a million products in stock means that we can be responsive to merchants' needs. It helps that we manufacture in the UK, which keeps us leaner, a crucial factor in maintaining merchant margin.
In an effort to convey this potential we encourage all our customers to visit our manufacturing facility in Wakefield, Yorkshire. Our 50,000 sq ft of warehousing and distribution capacity gives us the ability to hold most of our products in stock, which incidentally increases to 100% on our fixings ranges.
Understanding the trade
The timber to timber and timber to masonry category is an important part of the construction sector. They are critical to the long term performance of the building, which is reflected in the fact that most fixings now have to be manufactured to British Standard. For example, all our timber to timber joist hangers are made from galvanised steel to BS EN 10346:2009 DX51D as standard, and stainless steel to BS EN 10088-2 Grade 1.4301 to order.
Joist hangers represent one of the largest sectors in the connectors' market, closely followed by items such as restraint straps and angle brackets, and the range we developed reflects this makeup. Both roofing and flooring works inevitably involve the need for timber to timber or timber to masonry fixings, and having a suitable range available, with the necessary service backup, is essential to pick up sales. We usually work with merchants to identify a core range to hold in the branch if they wish, which will allow them to pick up trade counter sales. For other items, used for planned works, we deliver to an agreed schedule, including next day direct to site in many cases. Our merchant customers find that offering a very tight range of known volume sellers is the best way to grow sales without complicating their systems by holding unnecessary stock of slow moving but essential products.
Helping merchants grow their business
The future for the fixings' market looks good for merchants. Our advances in EDI and email ordering has definitely made things easier for customers and our recent half a million pound investment in new manufacturing equipment will help us push more value through to merchants.
The market dynamics also look set to improve; as house prices continue to rise and low interest rates encourage homeowners to spend on RMI, for example, with loft conversion and extensions, it will create more opportunities for merchants. On the new build side of the equation too, a desire by the government to build more houses, will ramp up demand in this area. All in all, the market for fixings looks very positive, which means the value of working with a supplier that understands the market and can offer clear elements of difference cannot be underestimated.
Back